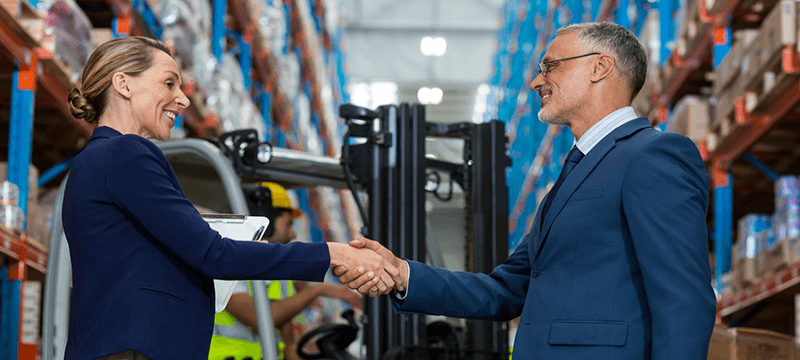 Why is fulfillment an important step in business development?
Is it time to seek the services of a fulfillment center to fulfill orders and how it can help your business become more successful? Find out in the following lines.
If you are reading this article, you are probably at a stage in the development of your business in which you are in doubt whether you need the services of a fulfillment center . The right answer can be crucial for you and your company. To find out if the time has come to look for a fulfillment partner , you must first understand how this can help your organization succeed.
Let's explain it better ...
Some companies use a fulfillment center (link) from the first day of starting their business . Others wait until their work grows enough and need help with logistics.
We are here to help you find the right solution to meet your business needs.
Find out how you can take advantage of fulfillment services :
What can order centers do for you?
Each implementation center is different and offers a different list of services, but most often the services offered are almost always reduced to:
Receiving inventory
Inventory management (loading, unloading, organizing, storing)
Collection of products
Order packaging
Delivery
The benefits of renting a fulfilment warehouse include:
1) More time that allows you to focus on growing your business.
Of course, every business owner wants to keep a close eye on the process, but not to spend valuable time packing, storing and shipping goods. The truth is that the fate of the company depends on whether you have a clear vision and whether you are focused on your main priorities. That is why your time is more valuable than ever and could be used much more rationally.
Working with a fulfillment center allows the experts in the warehouse to take over the part with the execution of orders, removing this burden from your obligations. This will allow you to focus on different projects such as: choosing new products, increasing sales, improving the brand's position in the market and scaling up your business.
2) Save time and money.
Outsourcing is an investment, not an expense. Many companies believe that they save money by doing all the processes themselves, which often costs more and is a mistake. Using an order fulfillment center frees you from having to rent a warehouse. Keep in mind that you may need more or less space during the different seasons. Implementing firms also benefit from better delivery prices because of the large volume of deliveries they make.
3) Effective storage and distribution processes
Allowing experts to take over the inventory management and order fulfillment process will create business systems that will make you, employees and customers happier. Accurate order tracking, data reporting and intelligent analysis, advanced software and technology, plus faster and more accurate processes, will provide the company with a successful distribution model.
4) More flexibility and greater ability to scale your business quickly and sustainably.
Thanks to fulfillment services, your business develops and is able to reach new sales and distribution routes without managing inventory and order fulfillment.
5) Infrastructure and increased flexibility allow businesses to enter new markets with ease.
Let your brand go global! By assigning responsibility and fulfilling orders to a third party, you will help your business enter new and unused markets. At the same time, you will not need to create physical retail space in each new place where you want to sell your products. And this advantage is not to be underestimated.
When is it time to rent a fulfillment center?
Time and money
If your company spends too much time executing orders, consider speeding up processing time by hiring an outsourcing delivery company .
Once you know what costs you have to maintain the execution of orders, consider whether it is not time to save some of these costs. Using a third party logistics company will reduce your core costs and shipping costs. Fulfillment centers allow you to avoid the need to rent warehouses and hire additional staff, thus saving time for hiring, teamwork and management.
Stress and efficiency
If you have identified inefficiencies in your organization's implementation processes, determine if you can address this with the resources you have (time, money, and experience). Sometimes your business may need help in certain areas. This may require you to receive support from a third party logistics company that can serve as a strategic partner and consultant. Without proper knowledge and systems, inefficiency can cause unnecessary stress to team members and render your services ineffective.
Dexterity and flexibility
When analyzing your business plan and future goals, consider whether future strategies should include a partnership that increases performance. For example, expanding your organization to a wider scope by using a fulfillment center can allow businesses to enter new markets while maintaining quality service.
Support from a fulfillment partner can be a strategic move to improve the scale of the business and create a solid foundation for future projects. Even if your sales are cyclical and seasonal, you can be flexible by outsourcing to a filling company and avoiding long-term rents.
You can trust Bigarena Fulfillment for the quality execution of the orders of your business. We offer workable solutions based on extensive experience and a well-coordinated team.
Learn more about the services we offer at bigarena.net .